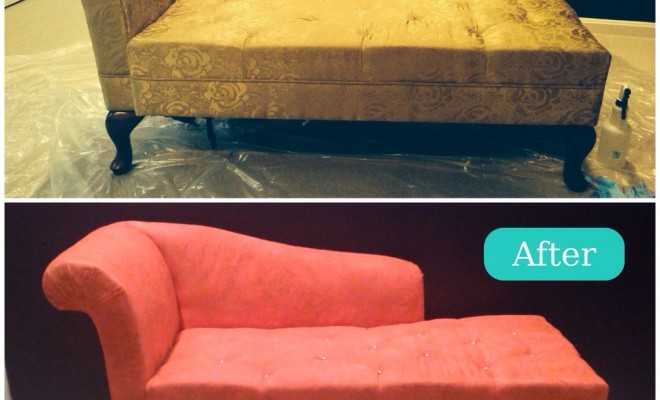 Crafts
Painted Upholstery…Who Knew?!
By
|
If you're like me you probably never knew you could paint upholstery. Right?! Well, surprise, you can and it looks fab!
I've read a lot about this and really did my homework before giving it a whirl and it was surprisingly easy. Slightly time consuming, depending on the size of the piece of furniture you're working on, but not terribly long.
Ok- so here's how it works and what you'll need:
Paint (satin finish)
Brushes
Fabric medium
High gloss white paint (for legs)
Spray bottle full of h2o
Rhinestones
Fabric glue
Gloves (because who wants to ruin a good manicure with paint!!)
You take your favorite satin paint color, (I used about six of those small acrylic craft paint bottles from Michael's Craft Store in the color Coral Reef), and mix equal parts paint with fabric medium. Then add water- half the amount of paint you used (ex. 4oz paint, 2 oz water). Mix those all together and you should have a stain consistency.
Next, take your spray bottle of water and dampen the area you're working on- do smaller areas at a time. Then, brush on your "stain". Let it dry overnight and then do a second stain. You may need a third but I only did two and was happy with the result.
For the legs, I used a high gloss white paint. It took probably four coats. So….you may want to choose a high gloss spray paint instead.
Lastly, using fabric glue I glued on rhinestones to all the button tufts for a little extra glam.
I love it!! When I bought this chaise about four years ago I knew it had a lot of potential and had planned to reupholster it. And then I started pricing it out and it dropped to the bottom of my priority list. This looks exactly like it's been reupholstered and allows me to finally add the coral accent color I've been wanting to do in our navy and white master bedroom. Love navy and coral! If I didn't know myself I would totally think it had. Woo hoo!!!
Mission accomplished for about $30! Now…what else can I paint?? Dying to make a tufted headboard. Maybe….
Xoxo,
Erika