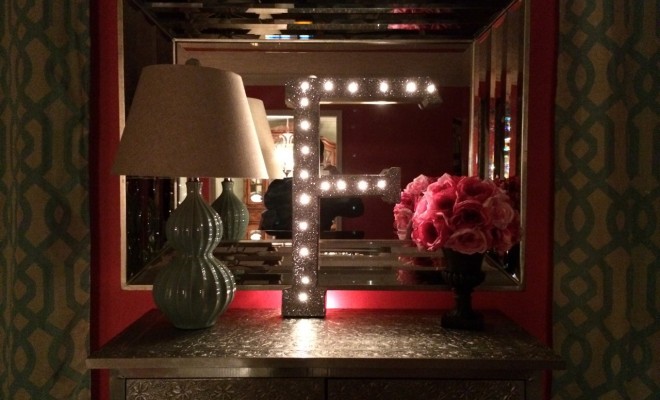 Crafts
Lights, Camera, Monogram!
By
|
I'm a total girly girl as I've said before and I love all things glitzy. A little glitter can go a long way. My favorite room in the house is our formal living room as my husband let me decorate it as swanky/girly as I wanted.
After seeing a blog posting on a fellow Kentucky girl's blog (Nesting in the Bluegrass) I decided to give her project a whirl. She spelled her word of the year for 2014, LOVE, which is a really cute idea. I chose to just do our monogram. However, it turned out so cute I think I might spell our entire name on a large empty wall we have!
For step by step photos please check out her blog link above.
What you'll need:
Large paper mâché letter (Joanne's Fabrics had tons- $10)
Silver paint (I accidentally used fabric paint but I like how it turned out)
Silver glitter
Exacto knife (or box cutter)
Mini christmas lights
Ok so first you want to cut the back out of the letter- very carefully!
Second, poke evenly distributed holes throughout the letter for your lights.
Third, paint the letter silver, then while wait cover in glitter. Shake off excess.
Once dry, poke your lights through all your holes. I actually used an old light and poked perfect holes through the front of the letter, then ran it through the back end. This made the hole look much neater. The glitter covered any frayed edges too. Added bonus!
I chose lights that plug into an outlet as I'll be placing this on a table. If I hang it on the wall we happen to have an outlet high up to hide the cord as well. If you're placing on a mantel or hanging on a wall I would suggest battery operated lights.
My last tip- my hubby bought timers for all our Christmas trees and garland this year and it has been SO nice! They come on at 5 and go off at midnight. I would suggest doing this for your letter so you enjoy it lit up in all it's glory daily. He got the timers at Lowe's.
Hope you enjoyed this fun idea!
Xoxo,
Erika