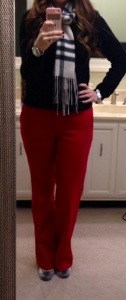 Style
Holiday attire at the office.
By
|
It's always fun to wear festive clothes at the office and incorporating pieces you can wear all season is an added bonus!
My red slacks from J. Crew are the perfect example. Everyone, in my opinion needs a pair of red dress pants!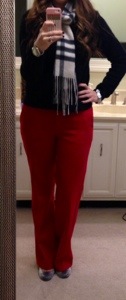 Pants- J. Crew (past season), Black cashmere sweater (old), Burberry skinny scarf (Saks), Kate Spade pumps (Kate Spade), Kate Spade Seaport Grand watch (Kate Spade), Kate Spade (Kate Spade jewelry).