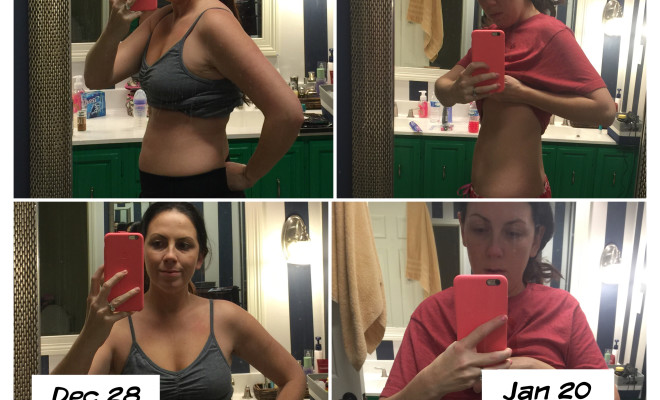 Health & Fitness
A Clean Eating Machine….as of late.
By
|
I debated on whether or not to post this for a few reasons.  1) I certainly don't want anyone to think I think I'm hot stuff.  Definitely not (no make- up, slob kabob in the pics below.).  2) I didn't plan to share the before and after photo and I cringe slightly at what a mess my bathroom is.  Ultimately, I am sharing because I am proud of my progress but mostly because I like reading these kinds of stories myself.  So if you're like me read away, if you're not, then you probably clicked on the wrong blog!
About three years ago I was probably in the best shape of my life, coming off my wedding I had worked my booty off (literally) and I took it to the next level by getting pretty serious about clean eating.  I probably discovered Instagram around the same time and I started following quite a few clean eating blogs.  One girl in particular really inspired me.  She went from trying to lose weight to becoming a bikini/fitness competitor!  I'm not trying to do ANYTHING like that but if my memory serves me correctly she made a 180 degree change in herself in about 7 months.  It was incredible.  She's a total stranger but I still follow her Instagram account.  Kinda strange, but hey, that's the world we live in today.
She started off by doing the Advocare 24 Day Cleanse and working with a trainer.  I wondered what Advocare was, so I did quite a bit of research and found it was a legit system and actually good for you, founded in science.  In fact, it's one of a very few supplement companies that NFL players are actually allowed to take.  Ok, fast forward three years.  I just had a baby in June.  I had a high risk pregnancy resulting in a c-section plus three IVFs to actually get the little guy in the first place, so I had a lot of restrictions when it came to working out.  My OB told me not to even do planks, but I planked every single day for at least 90 seconds until the day I had him.  You may think that's dumb, but I just listened to my body.  But all in all, no cardio or anything stressful.  I had a complete placenta previa in case you're reading and wonder what the big deal was.
Point of all that, I was off my A-game after baby came.  And exhausted, weak and in pain from recovery….you get the picture.  I lost all my baby weight but 8lbs thanks to breastfeeding.  At least I assume that's why, I certainly wasn't restricting calories, which you can't while breastfeeding.  I'm a scale person, so I weighed myself five days after having him- first day home from the hospital and I hadn't lost AN OUNCE!  I nearly had a heart attack.  My mom had prepared me to lose ONLY what the baby weighed, so I was ready to see at least a seven pound drop.  Not so much.  Fortunately, thanks to my hungry munchkin, the weight started falling off- it was nuts, I lost eight pounds overnight once.  Then, it stopped.  It stopped with eight pounds left to go to my pre-pregnancy weight…which is not where I was three years ago, but where I'd been most of my life!
Now, most people would say, boo hoo, eight measly pounds?!  Well, let me tell you, it's true when people say the last five or ten or whatever is the hardest to lose.  I would agree.  Plus, I've never really had to lose a lot of weight, so you don't really know where to start.  From September on….when I returned to work with the 8 probably 10 now…I gained a few back after I stopped nursing at 4.5 months, I started researching Advocare again.  I 'd "put a stake in the ground" with myself, that I would start this the day after Christmas.  I always take two weeks off work every year at the holidays, so this would give me a one week jumpstart before heading back to work.
So….today, Wednesday, 1/20/16, is day 24 of my Advocare 24 Day Challenge and I am pretty proud of myself!  It was not easy at first, the first ten days are the cleanse phase.  That can sound deceiving, you still eat…it's just CLEAN eating.  You also take a probiotic, a fiber drink (which maybe I'm weird but I loved it so much, I've kept ordering it…peaches 'n cream is amazing), a fish oil supplement and a few vitamins.  It's really pretty easy once you get past day three or so.  I was in a bad mood the first two days, yummy Christmas leftovers were everywhere and I love Diet Coke, so quitting cold turkey just wasn't fun.  Plus my husband was still eating whatever he wanted (which is fine) so willpower was key. Returning to work and juggling a baby added pressure too.  Food prep is crucial.
I will say, when I set my mind to a goal I refuse to quit.  Almost to a fault but this is probably why I'm in fundraising…I love goals evidently.  Big goals.
 On Day 10, I had a work trip that included touring Hershey, PA.  Yep, home of chocolate.  But I stood strong and ate veggies, lean meat and snacked on nuts.  From there on out it's been easy.  Honestly, it's not a diet, it's a jumpstart to a lifestyle change.  There's no soda, sugar, flavored coffee (fine by me, I'm not much of a coffee drinker so I didn't have any caffeine), white flour, dairy, processed foods….all clean eating.  It sounds daunting at first, but it's quite easy and you literally start to feel lighter within days.  No tummy aches either if you were wondering. LOTS of water, at least half your body weight.
You get an energy drink called Spark that is SO yummy.  I think it helps so much because it's a treat from just plain water, twice daily.  It reminds me of Crystal Light packets or you can buy a jar of it, which I have since done.  You also do meal replacement shakes.  Now, I've tried them all- Body by Vi, Shakeology, just protein powder and I can get them down but for me, personally, none have been a treat.  They always have a chalky after taste, aren't very thick and just taste kinda blah.  Plus, I always got hungry so it wasn't very productive for me.  These shakes are literally SOOO yummy.  Like Smoothie King good.  I kid you not.  When I was traveling for work, I had to do just the shake mix in water and use a blender ball and it was THICK!  I could not believe it was that good without an actual blender and frozen fruit added.  I usually use a Vitamix blender and add some frozen fruit.  24 grams of protein, 5 grams of fiber.  I stay full at least 3 hours.  So it actually IS a meal!  I've tried all the flavors and my favorite are Berry (add some frozen strawberries), Mocha Chocolate (tastes kinda like flavored coffee drink) and the holiday special Pumpkin Spice (OMG).
So….my results so far.  I've lost 6.3lbs as of today and have 2 more to go to hit my pre-baby weight.  That was kind of a bummer, but I think I'm being too hard on myself.  I also lost 5.85 inches overall!  That was really exciting!  And sadly, this was all without exercise.  I hate that too because I can only imagine how much better my results could have been but it's just been tough to juggle.  Operation tone up for summer is next!  Best of all though, it wasn't a DIET so I'll be continuing on to Day 25 tomorrow.  You can continue taking the supplements as well, which really does help curb your appetite and I'm all stocked up on my shakes, spark and fiber drink too.
I don't intend to bombard people asking them to buy this product from me everyday but I did sign up to sell it. Honestly, because I intend to stay on it and I get a 20% off discount!  Which adds up.  However, if you ever want to try it let me know and I'd be happy to hook you up.  It's easy, it just takes willpower and putting a stake in the ground and saying today or next Wednesday is the first day of ridding myself of bad food choices.  Anyone can do it. The supplements just make it a little easier.  Here's the link to my personal distributor site if you'd like more info:
https://www.advocare.com/160129188/.
Now…for my somewhat embarrassing before and after pics.  I really didn't know I had as much "fluff" as I did in the before pic.  So glad I got rid of some of it.  Sometimes it takes a photo for us to realize just what we really have to lose OR have lost!  And please ignore my messy bathroom and self!  Hope you found this somewhat inspiring!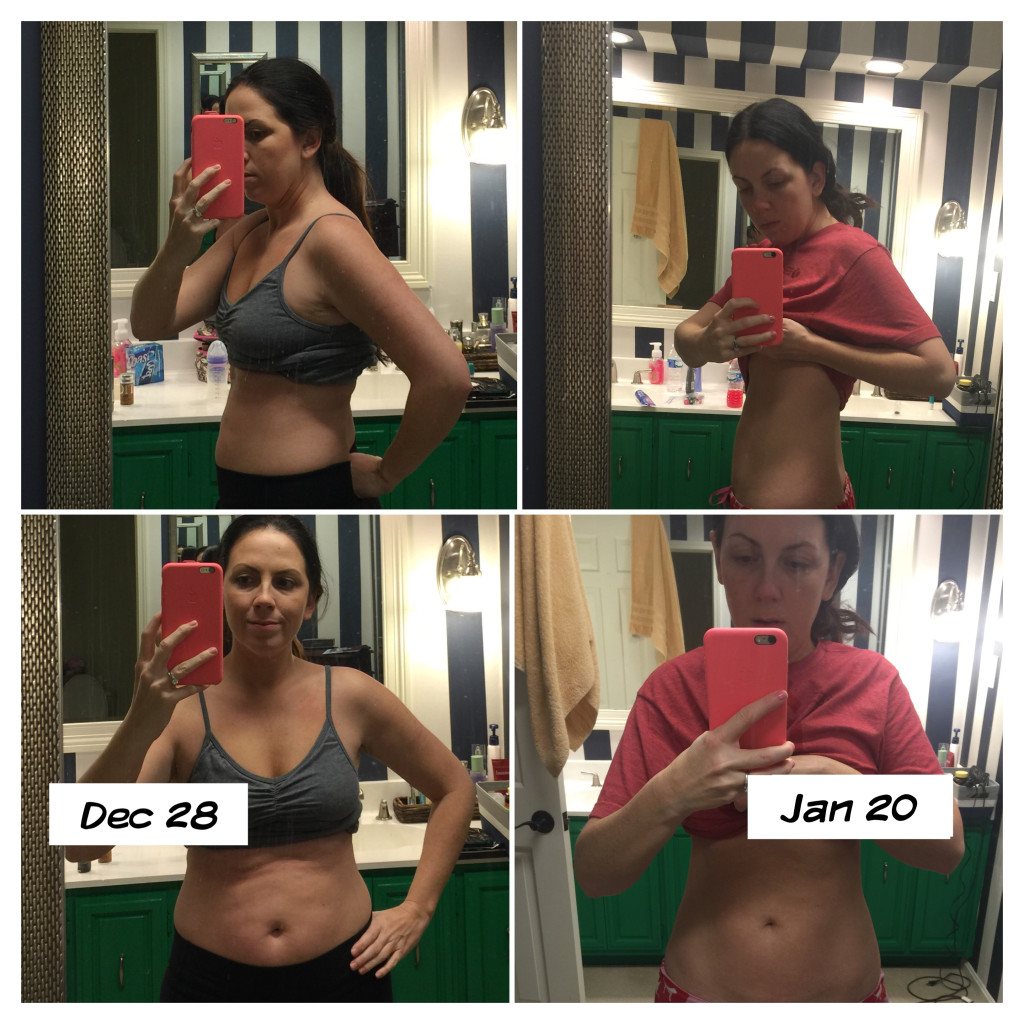 Happy New Year!
Erika