About Me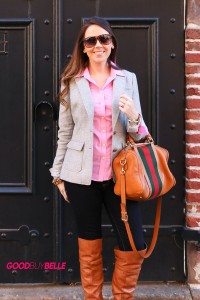 Hello everyone!  I have wanted to start a blog for years and finally decided to take the plunge.  I am a  girls' girl who loves everything girly.  No joke!  I love shopping, playing dress up, I can spend hours  in Sephora trying on different make-ups, love getting my hair done and who can say no to a new nail  polish color?!?  If it's girly, I'm gonna enjoy it as a favorite past-time.
Beyond all things girly, I have a very blessed life.  I met the love of my life, Tim,  in July 2008 in  Louisville, KY where we live (born and raised KY girl here), got engaged during a hot air balloon ride  in Napa Valley, CA  (yes, he did GOOD) in January 2011, tied the knot on November 18, 2011 on the  beach in Sanibel Island, FL, bought a house five months later and have been enjoying every minute.
No kiddos yet, but we have two furry children who are basically our very spoiled permanent toddlers.  Both are ten years old and we each had one when we met.  I had Miss Pudgee, my black (now salt 'n  pepper) pug who I've had for 10 years (I like to call her Miss Pug America….shhh, don't tell her, she  really thinks she holds the title)!  I adopted her when she was a mere 6 weeks old and I was only 23!  She is my best friend and I can't imagine life without her sweet face, snorts, snoring, clowning  around and her unconditional love.  She is my angel dog.  Maddie, is our 10 year old (yes, it's a K-9 retirement home here) yellow lab and my husband's had her since she was 6 weeks old too.  They are so cute together and the very best of friends.  You could not ask for better breeds.  Hands down.  I have a HUGE soft spot for dogs, so don't be surprised if you see them sneaking into my page on a regular basis.  I'm obsessed with French Bulldogs too.  OMG, the cuteness is too much!
I decided to start a blog after hearing friends always suggesting it for one, and everyone always getting a kick out of my crazy shopping stories.  I'm the queen of finding great deals and where most people hate digging around for a great deal in a store, or window shopping online for hours- I LOVE IT!  It may be an illness, and if so, I don't want to be treated for my condition. 

  Ebay is my BFF and I make a date with her way too often.  Don't even get me started on all the amazing bargain sites out there now, especially the ones with apps- Gilt, Rue La La, Shop It To Me, HauteLook, Zulily, Poshmark…..I could go on for days.
Besides fashion, I have tried pretty much every beauty product known to man (or should I say woman).  I have many HG (holy grail) products that I look forward to sharing with you.  Growing up, I always wanted to be a vet.  Somehow I landed in non-profit with my PR degree and have worked for the same agency for nearly 10 years.  If I could choose my dream grown-up job, it would be something with fashion or to be a makeup artist.  I <heart> makeup.
Crafting and home decorating are my other favorite past times.  Can someone say Pinterest!?  Sitting down with a craft project and seeing it come to life is the ultimate relaxation technique for me.  You can block out all the stress in your life and just make something fun.  I will share these as well.
I hope you enjoy my page.  I look forward to connecting with new followers and bloggers alike.
Nice meeting you,
Erika