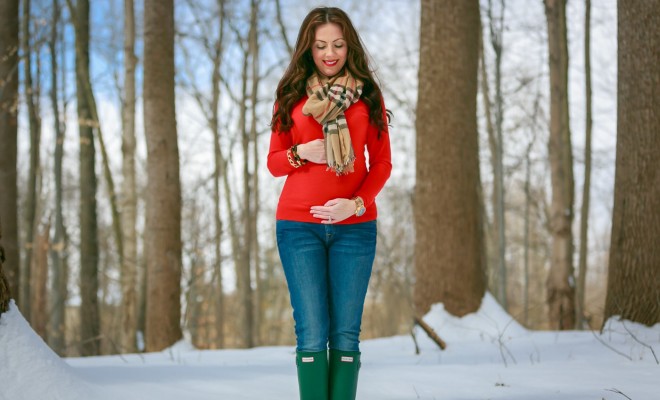 Fashion
Stylin' Your Baby Bump
By
|
I've taken a little hiatus from the blog- basically life got in the way…new position at work, new puppy, it's been a crazy six months!  Most importantly though, I have a baby on the way!!!  We are thrilled to announce Harrison Ross Furlong (it's a boy!) is due on July 13th.  Below is mister man's photo at 15 weeks.  We have another ultrasound next week and cannot wait to see him.  I just started feeling him kick this week and it is remarkable.

With all the excitement comes the challenge of styling the bump!  All I've ever heard is how ugly maternity clothes are so I'm bound and determined to rock a cute style during this exciting time.  The biggest eye-opener I've had so far is that you get to wear regular clothes for a good portion of your pregnancy…especially if it's your first.  This is my first.  I'll be 20 weeks along in a few days and I'm still wearing my regular jeans and regular shirts for the most part.  I've also found some cute tunics that I'm hoping will get me through the majority of the pregnancy, just in a larger size than I'd usually wear.   So tip #1- don't assume you can only wear maternity clothes- cardigans, tunics, leggings….there are lots of cute styles you can make work and hopefully continue wearing once the baby is here and the bump is gone!
Here in Louisville, KY we rarely get large snows but I LOVE snow….mostly because it's such a rarity here.  This week has been insane, we've gotten a TON of snow- 10+ inches.  It turned into a nice back-drop for some impromptu maternity photos with my husband!  He's an architectural photographer but he takes good "people pics" too.
I always love the snowy photos you see on Pinterest….the snowy engagement photos, maternity pics, etc.  So I seized the opportunity!  We walked a trail in our neighborhood and it took all of 15 minutes to get some pretty decent shots.  In styling the bump for the photo I wanted a color that would pop against the snowy background but also something timeless.  As you can see in the photos below, I went with jeans (maternity actually!) 7 For All Mankind , a red sweater Nordstrom, Burberry scarf Burberry Giant Crinkled Scarf, newsboy hat for a little flair old,similar style here, Hunter boots Hunter a few favorite jewelry staples….oh and some bright red lipstick Mac!

I look forward to doing a warm photo session as we get closer to the big day!  I'll continue posting as I find cute ways to style this ever-growing bump too!
XOXO,
Erika